Nothing is more exciting and... intimidating... than the blank "Hello World" screen. Basically, this is what comes to mind:
Hello World. I feel like a n00b...
Going into building stephhays.dev, I know of the end goals I want to accomplish but not necessarily how to get there. To be honest, it's been years since I've created a website on my own from start to finish. On top of that, technology and my skills have come so far, I'm really starting from complete scratch here. I can't help but feel like such a nOOb (as my 7-year-old son would say).
Things I know I want on stephhays.dev:
Showcase recent code experiments from any source. This might be a CodePen or Gist on GitHub, or somewhere else.
Start a blog. I haven't blogged since the days of Xanga, but here we are. Blog about interesting code I write, projects I'm working on, and also just my personal life with 2 crazy kids in the middle of a pandemic.
Provide multiple themes to choose from, because let's face it, I'm indecisive.
Make it fun and not too serious. Hide some Easter Eggs in it. And maybe confetti. Definitely

confetti

(fine, I edited this later to add the confetti).
Use Statiq.
Easily managed. Build and deploy to GitHub Pages with GitHub Actions on PR merge (I have no idea how to do this, by the way).
So here I am. This blank "Hello World" screen on my localhost. Let's see what I can create.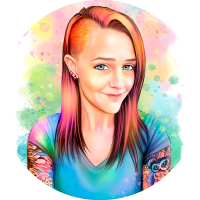 Hi, I'm Steph Hays. I am a web designer and developer.